A Grown-Up Grilled Cheese Sandwich
May 02, 2013 04:06PM ● By Brian O
A classic grilled cheese sandwich is one of the iconic foods of childhood. And while plenty of people still enjoy a basic grilled cheese, many are looking for ways to take their favorite sandwich from the kiddie table to the grownup table.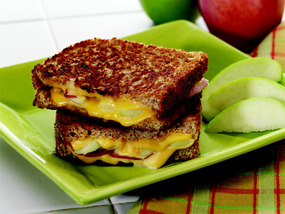 Of course, your choice of cheese is the key to the perfect sandwich. Different types of cheese will provide unique flavors and textures. Flavored cheese slices, such as Borden® Cheese Singles Sensations®, lay a tasty foundation for a wide variety of sandwich toppings. And certain cheeses, such as Borden Grilled Cheese Melts, are made specifically for their creamy consistency when melted.
Experimenting with new ingredients can also dress up everybody's favorite sandwich. Create your own signature sandwich with additions such as:
·      Fresh or sun dried tomatoes
·      Bacon or prosciutto
·      Avocado
·      Fresh herbs such as sage, basil, oregano or cilantro
·      Jalapeño
·      Pickles
·      Roasted red peppers
·      Caramelized onions
·      Flavored cheese slices such as Southwest Pepperjack, Smoked Cheddar or Applewood Bacon Cheddar
·      Apple or pear slices
·      Dijon or honey mustard
·      Smoked or mesquite turkey
You can also change things up with different breads. Try pumpernickel, rye, seven-grain, sourdough or English muffin bread.
Here are two recipes to excite your taste buds – they use Borden Cheese, made by a 100 percent farmer-owned cooperative. That means that 100 percent of proceeds go back to American dairy farm families.
To find more deliciously cheesy recipes you can feel good about sharing with your family, visit www.FriendsofElsie.com. 
Sandy Demo 050213 [4 Images]
Click Any Image To Expand